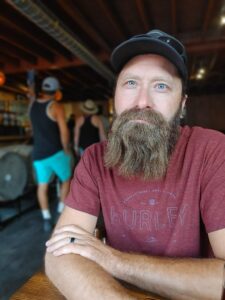 Jeff moved to Kelowna with his new little family in 2000 from Terrace B.C. to pursue the automotive collision repair course at O.U.C. and turn his love for custom cars into a trade that would provide for his family.
Jeff achieved great success in the program and really solidified his love for making things new again. His success and good practical skills test grades actually allowed him to challenge the exams early and were hired into the trade by a large collision shop prior to the course completion. Jeff spent some time in the collision world, just a couple short years before really coming to grips with the fact that it wasn't all he had dreamt it would be.
Jeff longed for more gratifying projects. Something to challenge his skills and push him farther. Jeff began taking on restoration work on the side in his garage at home and soon signed on as an apprentice under a skilled craftsman at Macaw Autobody in Kelowna. Jeff spent several years there learning how to get through increasingly larger and more in depth builds with higher and higher levels of customization and expectation.
Jeff's "can do" attitude got him into some challenging situations over the years. As time went by and Macaw Autobody veered more into collision repair during some slow times, Jeff took his restoration skills back to his home shop where he got a little more hands-on in growing a thriving business. Jeff found that he really enjoyed building relationships with his clients and began inviting them to work alongside him on their projects when they had an interest in learning things for themselves.
Many people say that it's bad business to teach someone to do what you do, but it has really taken off for Jeff. His customers achieve a much greater level of satisfaction with their project and have a much fuller understanding of what had to go into it to get it to a finished product. TV tends to edit a lot of the tedious hours out. In the Spring of 2016, Jeff was able to lease the old Macaw Autobody building and invest some money into taking his passion to new levels. He opened Trendsetter Automotive as a way to grow outside the confines of his home-based business and take on more projects, build more relationships and provide a new type of quality service experience in the custom car world.
Jeff truly enjoys building beautiful classics and restomods, but for him a large part of his satisfaction comes from helping his clients see their vision come to reality.